This article is about the 2016 film. For the game, see Angry Birds. For other uses, see Angry Birds (Disambiguation).
The Angry Birds Movie is a movie based on the Angry Birds series of video games and is scheduled for release in theaters May 20, 2016. It will be computer-animated and will be released in 3D. John Cohen will be the producer while David Maisel will be the executive producer.[1][2][3] The film will be produced and financed by Rovio Entertainment. On May 15, 2013, it was announced that the film will be released on July 1, 2016, and will be distributed by Sony Pictures Entertainment.[4][5][6] The film was scheduled to be released on July 1, 2016, but in December 2014, it was moved up to May 20, 2016. On May 20, it was announced that Jon Vitti will write the screenplay for the film, while Catherine Winder is also joining as a producer.[7] On October 9, it was announced that Clay Kaytis and Fergal Reilly will be the directors.[8]
Synopsis
The movie takes place on Bird Island, an untouched paradise inhabited by birds who are naive and innocent, who know nothing of the outside world. They treasure eggs above all else, and are all carefree and easygoing, except for few.
One of these birds is Red, a societal outcast who has had anger issues from the very beginning. Eventually, his outbursts become too much and he is sentenced to anger management courses, where he meets other misfit birds with similar problems.
The birds are suddenly visited by green pigs, who are dumb but funny. The birds and pigs quickly befriend each other, but Red does not trust the pigs at all. Ultimately, the pigs reveal their true colors, and leads to Red leading the entire flock in a "maddening" frenzy of rightful revenge as well as finding the right means of dealing with rage.
Unlock the Flock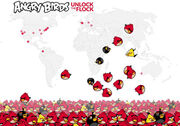 By every bird flung during the Sneak Peek Weekend and every share, Rovio would drop a bird on the www.unlocktheflock.net website, which counts as a "fling". For 1 Billion flings, they would release an exclusive surprise. It was a poster for the Angry Birds Movie.
Main Cast
Supporting Cast
Tituss Burgress - Photog (Pig With Camera)
Blake Shelton - Earl [10]
​Supporting Roles (Roles not yet confirmed)
Unknown - The Blues (Jim, Jake, Jay)
Unknown - Hal
Unknown - Terence
Unknown - Bubbles
Unknown - Foreman Pig
Unknown - Gale
Unknown - Willow
Unknown - Poppy
Ike Barinholtz
Keegan-Micheal Key
Hannibal Buress
Darren Dunstan
Greg Abbey
Hannibal Buress
Cristela Alonzo
Jillian Bell
Danielle Brooks
Romeo Santos
Ian Andrew Hecox
Anthony Padilla
Titles and Release Dates in other countries
| Country | Title | Release Date |
| --- | --- | --- |
| Finland | Angry Birds Elokuva | May 13, 2016 |
| Mexico | Angry Birds: La Película | May 13, 2016 |
| Russia | Angry Birds в кино | May 12, 2016 |
| France | Angry Birds Le Film | May 11, 2016 |
| Chille | Angry Birds - La Película | May 12, 2016 |
| Japan | アングリーバード | October 1, 2016 |
| Korea (South) | 앵그리버드 더 무비 | June 2016 |
| Czech Republic | Angry Birds ve filmu | June 30, 2016 |
| Israel | אנגרי בירדס | May 12, 2016 |
| Italy | Angry Birds - Il film | June 2016 |
| Germany | Angry Birds: Der Film | May 12, 2016 |
| Thailand | แองกรี้เบิร์ด เดอะ มูวี่ | May 12, 2016 |
| Poland | The Angry Birds Movie | July 1, 2016 |
| Hungary | Angry Birds: A Film | May 12, 2016 |
| Brazil | Angry Birds: O Filme | May 12, 2016 |
| Norway | Angry Birds Filmen | July 1, 2016 |
| Portugal | Angry Birds: O Filme | June 1, 2016 |
| Sweden | Angry Birds | May 13, 2016 |
| China | 愤怒的小鸟大电影 | TBA 2016 |
Gallery
Posters
Parody Posters
Videos
Trivia
When the birds are launched from the slingshot, they tuck their legs under their wings, which gives their appearances a spot-on match to their game counterparts.
It appears the direct source of Red's anger and solitude was back in his early childhood: he was always made fun of because of his abnormally large eyebrows, giving him the nickname "High Brow" from the official trailer.
In the games, Matilda drops explosive eggs while flying; but in the movie, she expels egg-shaped fireballs that explode on impact.
This is the second version of the King Pig having facial hair; the first was in the Angry Birds Toons episode "Bearded Ambition".
All the birds except Bomb and Hal have their Toons designs, also Bomb is shown to have a tail in the movie.
References
External Links