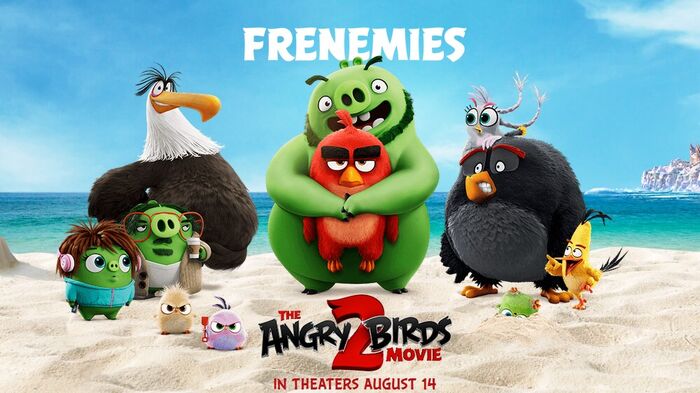 If you are looking for the game, see Angry Birds 2.
The Angry Birds Movie 2 (or simply Angry Birds Movie 2) is a 2019 CGI-animated action-comedy film based on Rovio's Angry Birds franchise, presented by Sony Pictures Animation and Rovio Entertainment, released by Columbia Pictures, and distributed by Sony Pictures Releasing. It is the sequel to 2016's The Angry Birds Movie. It was released in U.S. theaters on August 13, 2019, digital on October 29, 2019, and DVD and Blu-ray on November 12, 2019.
Summary
The flightless birds live their lives in peace in Bird Island, after the war for the rescue of their eggs and reconstruction of their village. However, Leonard (King Mudbeard), after the destruction of his city and castle in the war, puts his revenge in practice with new assistants, leading to another small war involving the birds and pigs. 
However, a purple eagle bird named Zeta, tired of living on a cold island, starts to put the lives of both the birds and pigs at risk, making them put their differences aside and embark on a new adventure to end this plan and save their worlds and lives.
SPOILER ALERT!

The following information contains spoilers with the plot and ending details. Or continue to scroll down for your own risk.
Plot
The movie starts with Bird Island's inhabitants utilizing the slingshot transit system to get to where they need to go across an expanded Bird Village. Some are enjoying the beach. Vincent, Zoe, and Samantha are building a Sand Castle. Then, Red pops out of the sand. He demands Bomb and Chuck to look at their binoculars. Chuck sees a pie coming out of nowhere. Red then takes Chuck's binoculars and looks through them. They get scared and duck, but the pie hits a duck's face. The birds apologize.
Red looks through the binoculars and sees that it was Leonard with Courtney at Piggy Island and the pigs that were launching pies on them. He and his friends get angry. They then launch a hot sauce bottle off the slingshot, which hits a pig that was at a Taco Hog restaurant asking for hot sauce.
The birds are then relaxing at the beach again, but a sun rail starts popping everything inflatable, including the bouncy castle that the hatchlings were in. Then the hatchlings start crying. They see that it was Leonard with a giant magnifying glass. Red gets angry so Red, Chuck, Bomb, and Terence pile themselves on a plank and then jump into the sea, causing a tsunami to come to Piggy Island and smash Pig City entirely, bathing a muddy pig, Oliver, that didn't want to take a bath.
The birds are then relaxing at the beach again, but Leonard and his pigs come in piggy zeppelins and open bags full of crabs, which they infest the beach and ruin the birds' fun. One of the crabs even steal Hal's wallet but Red gives it to him. They defeat the crabs by Bomb rolling above them.
Back at the castle's tower, Leonard starts looking at his telescope, which he notices an Ice Ball falling. It falls into the sea and he looks again, which is revealed to be a third island that is launching it. Zeta, a purple eagle is tired of all the ice and seals that completely ruin the fun, such as stealing her food. She demands another Ice Ball be fired, but her secretary, Debbie a white and purple eagle, reminds Zeta that the scientist she hired, named Glenn, is being tortured by her.
Back at Bird Island, there are a bunch of inflatable Leonard pigs coming with truce letters. Red, Chuck, and Bomb start talking. Then, they launch themselves to the Speed Dating place.
The hatchlings, Zoe, Vincent, and Samantha start to pretend to be Red and Pigs. Samantha is sad because the eggs are rocks, so Zoe goes to her house to get her parents' (Terence and Matilda) three eggs. She puts them on the wooden nest, but it is pulled by the sea waves. 
In the Speed Dating area, Red, Chuck, and Bomb start talking with female birds, such as Dahlia, Willow, and Ella, Silver is talking with Red, but he gets angry as Silver was asking personal questions. He goes back to his house, where he eats popcorn and drinks butter. Someone knocks on the door. He opens the door and it was Leonard. He gets scared.
He starts blocking the places to Leonard do not enter and then puts him on the floor tied by ropes. He asks what was him here for. Leonard says that there's a third island and it may destroy all of the birds and pigs. Red is not convinced until Leonard dispatches SQUEAL Team Six, hiding throughout the house, to reveal the drone photos to him.
They start recruiting the birds again. Bomb, Chuck, Silver, and Mighty Eagle make a secret meeting on the Eagle Mountain talking about Zeta. Mighty Eagle gets scared. An ice ball hits the mountain, which the team flees on Mighty Eagle, but he crashes into a mountain. However, the team successfully lands safety with the Eagle Island Map.
All the birds and Mighty Eagle get shocked about Eagle Mountain's destruction, but not Zeta, which she demands Glenn to improve the Ice Balls to Magma Ice Balls. Then, the Birds and Pigs team starts to walk to the Pig Submarine, which was thought to be small but later is revealed to be the huge machine full of devices and inventions made by Garry, who was a smart tech pig.
Meanwhile, the three hatchlings are paddling a raft and get the eggs, but a blue whale appears and lifts them by launching a water jet from the blowhole, making the eggs fall on a cloud. Then, Zoe puffs herself up and flies to get the eggs but she and her friends go to space, but the tied beak gets untied by hitting a spacecraft. The Piggy Submarine reaches the Eagle Island and opens its snout, showing the heroes with winter suits, but they slide on the iron and fall on the snow. They talk about the plan and say about Zeta, which Mighty Eagle remembers about the days of his relationship with her and the abandon of her on the marriage. Silver asks why he did it. He says that he was a coward and flies away.
Then, the eggs fall into a small island with a palm tree. Zoe and her friends find a mother Boa Constrictor with the eggs and defeat it. Taking her skin and teeth as clothes, they then build a boat with a palm tree leaf (not shown) and then reach a beach, which they thought was Bird Island, but was revealed to be Piggy Island. They find three piglets and they call them to ride a pig zeppelin.
The members of the mission start to continue discussing their plan. Red asks how Leonard and the other members (Except Silver) would reach the cannon. They then show Harvey, an eagle suit, but Red isn't happy as the friends are giving too many good qualities to it and starts imagining him being alone with Harvey and his friends ignoring him. They then ask what was happening with him but he says that he is good, and Red starts to go alone to save both of the victim's islands. Silver wants to rebuild Red's relationship by associating with him. However, Red wants to go by himself. They start spilled up. Red and Silver climb up. Red tries to keep struggling through he keeps missing things. Leonard and the others disguise as Harvey, going to the entrance of Zeta's facility, but Carl and Jerry were guarding the door.
When Harvey approaches the entrance, he starts to talk with the guards, but Carl gets suspicious about him and Jerry points his ice spear to them. Carl starts to confiscate the costume and thinks it's true and commands Jerry to open the door. Jerry opens the door and Harvey starts to dance inside the room, surprising Axel, but the costume heads towards the Ice Ball room.
Red and Silver continue their track. They jump into the volcano with ropes tied to them and get into the base. Red cuts wire with a scissor, thinking it was the cannon's wire. But it shows that it was the wire of Carl's microwave with his lunch, he gets angry as it stopped working and cooled down it. Meanwhile, Harvey bumps into barrels and finds a code pad. He tries to open the door, but he doesn't know the code. Leonard has the idea of stealing Brad Eagleberger's keycard and starts walking towards him to get his keycard. They get into the bathroom, which Brad Eagleberger is urinating. Harvey then starts to disturb him, which he is forced to leave. Chuck picks up the keycard, but it ends up brutally injuring Brad. Harvey then leaves.
When Harvey enters the room, Chuck tries to see what was there and accidentally makes Harvey dance. Axel sees it and drops his spear, which Chuck and Leonard think he is going to fight him but he actually starts to dance while he's impressed by his dance moves. Axel then says to Harvey to do his turn. Harvey dances and launches Courtney off its rear. Axel gets shocked, accepts the challenge, and all the eagles, along with him, start to dance.
Chuck notices Hank with Red and Silver and tries to save them. He pedals Harvey, but its legs get too fast that it rips the fur and breaks. The team gets revealed but the all the eagle guards were still dancing, so the team goes behind to make a better plan. Zeta starts to torture Red and Silver on her resort, in which their limbs are frozen on retracting rubber mattresses.
Mighty Eagle flies to his cave and starts to eat Bird Seed. He then notices photos of Zeta kissing him.
Zeta starts to show her evil plan and demands Glenn to fire the ice balls. The Ice Balls are fired and it destroys the Piggy Blimp, Pig City, and a part of Bird Village. Red gets shocked and starts to remember when he said that the birds shouldn't evacuate. Zeta then leaves the resort and says to the eagles that they aren't going to live anymore on an Ice Island. 
Bomb explodes and Red and Silver escape. Silver has the plan to get into an Ice Ball and explode the Super Weapon, while Bomb and Chuck will distract the guards and the pigs will pull the lever on the Ice Cannon. Almost every plan succeeds but not Red and Silver's, making them fall near Zeta and the Ice Ball deal no damage.
Mighty Eagle gets into the room and tries to convince Zeta to marry him again. While he was talking, Silver demands Chuck to tie the Ice Balls with superstring, and he does it. Zeta says that Debbie was Ethan (Mighty Eagle)'s daughter, and gets angry as he didn't live with her and starts to fire a barrage of Ice Balls, but they all get piled with the Super String. The string starts to break but the Hatchlings and Piglets prevent it and the Ice Balls fall into the Ice Cannon, exploding the entire Eagle Island. The team and the eagles start to run. Baby gets launched off the explosion and unfreezes, making the Seal happy and try to hug him, but he falls into the cold sea, freezing him again.
The Team and Zeta escape safely, but Zeta sees Debbie's shoe below the debris. She starts to mourn but she sees that Mighty Eagle saved her. He starts to show Zeta his tattoos showing him with her and Zeta gets convinced. Both marry and start to kiss. While the pigs, eagles, and birds are at the marriage, they all start to eat and dance together in celebration. Meanwhile, Red and Silver begin a romantic relationship, under the eye of a protective Chuck.
The same hatchlings start to reenact the conflict between Zeta and Harvey but they go to see Zoe's sisters hatching. They go to Zoe's house. The eggs hatch and it shows that they were actually snakelets and that the eggs were from the Boa Constrictor and the same snake enters the house asking for her sons. The hatchlings give the snakelets to the snake and the Boa Constrictor gives Zoe's sisters. The hatchlings start to view them, but they get into a raft and sail to the sea, much to the hatchlings' dismay.
Characters
Birds
Pigs

Eagles

Others
Main:

Zoe (Brooklynn Prince)
ViVi (Genesis Tennon)
Sam-Sam (Alma Versano)
Jay (JoJo Siwa)

Beatrice

(Faith Urban)

Lily

(Sunday Urban)

Ally

(Nova Reed)

Jenny

(Eliza Cohen)

Bailey

(Samantha Cohen)

Others:

Main:

Others:

Main:

Others:
Marketing, Home media and release
Very little information about the film's plot and characters were revealed until Sony eventually released a teaser trailer and poster for it on February 21, 2019.
The film was released in U.S. theaters on Wednesday, August 13, 2019, to mark the 10th anniversary of the release of the original Angry Birds game. The film was originally scheduled to be released on September 20, 2019, but was moved ahead twice to September 6, 2019, then August 16, 2019, and then August 14, 2019.[1][2][3]
The Angry Birds Movie 2 was released on digital and Movies Anywhere by Sony Pictures Home Entertainment on October 29, 2019, with Blu-ray, Ultra HD Blu-ray, and DVD releases set to follow on November 12. All releases will include an animated short film entitled Live Stream. The Ultra HD Blu-ray version will be the first release of its kind to be IMAX enhanced.
Reception
On review aggregator website Rotten Tomatoes, the film holds an approval critic rating of 73% based on 106 reviews, with an average rating of 5.7/10, and an audience rating of 81%, with an average rating of 4.22/5 stars based on 4,717 reviews. The site's critical consensus reads, "Like its non-aerodynamic title characters, The Angry Birds Movie 2 takes improbable yet delightfully entertaining flight, landing humorous hits along the way."[4] On Metacritic, the film has a weighted average score of 60 out of 100, based on 23 critics, indicating "mixed or average reviews".[5] 
Gallery
For this film's image gallery, see The Angry Birds Movie 2/Gallery.
Trivia
Unlike the previous installment, it is co-presented by Sony Pictures Animation.
Directorial debut of The Marvelous Misadventures of Flapjack creator, Thurop Van Orman.
This is the first time that there are different released Official Trailers with different scenes in each country.
This movie released the day after World Elephant Day.
The movie's release date is to mark the tenth anniversary of the release of Angry Birds.
The movie is officially by far the highest-rated video game movie on Rotten Tomatoes, with a 72% Fresh rating.
The novel and movie Crazy Rich Asians in which Awkwafina was in were parodied in one scene where Carl reads a book called "Crazy Rich Avians".
Tiffany Haddish and Awkwafina, who worked on this movie, would later reunite to work on The SpongeBob Movie: Sponge on the Run, as well as the Adult Swim series, Tuca & Bertie (along with Ali Wong from the previous film).
There are posters for the movie referencing others:
In this movie, there is Jay's hair on his head and does not look like either Jake or Jim.
The Angry Birds Movie 2 was released on Netflix in the U.S on March 3rd, 2020[6]
Trailers
Clips
TV Spots
Shorts
References
External links