"You can-" "-Count on-""-The Blues!"
Jim, Jake and Jay (collectively known as The Blues) are identical characters in the Angry Birds series. They are eastern bluebirds granted with the ability of splitting into three, and members of the Angry Birds.
Appearance
All 3 birds are completely identical. They have slightly longer beaks than Red, notable red-orange bags under their eyes, and unlike the other birds they have no eyebrows. They have 2 top blue feathers and 2 black back feathers. Additionally unlike the other birds, they have no chest feathers.
In The Angry Birds Movie, The Blues are small anthropomorphic Blue Birds as their eye color are different, Jay's eyes are blue, Jake's eyes are teal and Jim's eyes are brown. Both Jay and Jake have yellow feet while Jim's are orange.
Personality
Jim, Jake, and Jay were born in a baby blue egg after the battle with the pigs, with Red nearly sacrificing his own life in saving the triplets' lives. Shortly after this, the newborns went to the newly repaired slingshot and launched themselves to sea. The Blues are very mischievous birds, often getting into trouble for pranks at the other birds. They have a very close bond with each other, almost always be seen together.
They can be very intelligent and cunning, and use this feature to get out of situations they find themselves in. They are extremely gifted in constructing contraptions, though this talent usually goes to fooling the pigs or the other members of the flock. They can be friendly and loved by the other birds. They are also good at figuring out situations.
Because of Jay being well brainy and confident, he instructs and gives out plans for the other Blues and likes having fun without being worried.
Jake is way more mischievous and laid-back than his brothers. He does the pranks the most. He is also a champ. He likes fighting pigs and doing dangerous stunts.
Jim is very helpful and kind-hearted towards the flock and, like Jay, Jim sometimes follows Red's orders. He knows how to be very energetic, how to come up with crazy ideas for pranks, the ones that are crazy enough to work. Jim can occasionally be a little timid, but he always keeps his cool.
Powers and abilities
The Blues are known for having the unique ability to multiply into three identical copies.
The Blues' splitting ability can be exploited in different ways. By splitting just before impact with an obstacle, the three birds' force on impact is concentrated for maximum force. Alternately, the birds can be split early allowing them to spread out and hit more obstacles at once.
While the Blues do not cause much damage with most obstacles, they do have a unique strength against glass/ice, able to penetrate it with surprising ease. They also can damage or destroy damaged shards of wood. However, they cannot destroy stone at all.
Transformations

By passing though an extraterrestrial wormhole of some kind, The Blues can transform into The Lightning Birds.[1] In this state, The Blues have some different body features, the most notable of which is their helmet. However, most of their abilities remain the same. This transformation only appeared in Angry Birds Space.
Relationships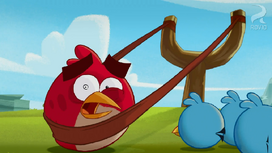 Red is seen as a father-figure to The Blues, however more strict than Bomb. He places them over the egg's safety, and trusts them to do so, exampled in the Toons episode Dopeys on a Rope. In Slingshot 101, Red is very concerned for them after being flung into a mountain, afraid that they will be defeated by the pigs. However, in the end they are seen playing with each other.
Red also thinks less of the Blues, and underestimates their ability to defend themselves. He does not realize how cunning and thoughtful they are and as a result end up doubting them.
In the film version, Red actually protects the Blue Egg during the confrontation against Leonard. As Leonard was lost in the explosion, Red managed to survive as the Blue Egg that he carries has already hatched and to see the Blues who belonged to Greg Blue and Olive Blue as he returned the triplets back to them. To thank Red for saving them, Jay, Jake and Jim made a choir with the other hatchlings on the island to sing the song about him.
Chuck and Jay, Jake, and Jim are considerably good friends. However, sometimes The Blues are annoyed by Chuck's nonsense, just like the other birds. The Blues are stubborn towards Chuck when he made them go through his obstacle course in the toons episode Full Metal Chuck. In the Toons episode The Bird Who Cried Pig, Chuck is welcomed by the Blues and they say, "hi" to him. (assumption because they don't speak in the toons episodes)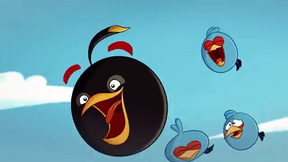 Bomb acts as a more tolerant father-figure to The Blues, exampled in the episode Shrub It In where Bomb is playing with them. Bomb also is seen playing with them in the toons episode The Bird Who Cried Pig. They also happen to call Bomb "Uncle Bomb" in the Angry Birds Mini-Comics #1. It is also said on the Angry Birds Official Website that The Blues prefer Bomb over Red due to Bomb's more likable personality.
The Blues see Matilda as a mother figure, as she constantly scolds them for doing wrong things, as exampled in the Toons episode Do As I Say!. The Blues don't like it when Matilda bosses them around and are usually scolded for the things that they do. The Blues also are very aware of her temper and care for her, as exampled in the Toons episode Shrub It In where they don't want to tell her about her rose bush to hurt her feelings.
While the Blues dislike Matilda's cooking, they are aware of her sensitivity and try not to hurt her feelings, however they are unsuccessful.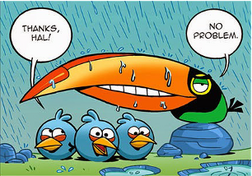 Hal is seen as a better father-figure to the Blues, as they choose to tag along with him than Red, who offers to follow along. Hal is willing to help them through many obstacles, like crossing a cliff, being shelter for rain, and being a boat to cross a river. It seems to be that the Blues stick to Hal more because his beak an extremely useful component of him.
It can be assumed Terence and The Blues are good friends. In their description on angrybirds.com, it is shown that they play pranks with him as some sort of prop, as it mentions they dressed up Chuck in a pig costume and called Terence over to deal with him.
The Blues treat Bubbles like a younger sibling. When The Blues barely knew him and he got captured by the pigs, they went out of their way to rescue him. They also don't seem to get very upset when he eats most of their candy, meaning they are more tolerant if he wrongs them in any way. The Blues also think he is cute and coo over him at the end of the Ham'o'ween Short Movie.
Quotes
"The Floof"[2]

Jay: And my floof?
Red: Yeah, even your cute little floof.
Jay: Looks like you're gonna be okay.
Trivia
The Blues are the only characters in the flock to not have eyebrows. But there are rare situations like the cinematic trailer, where they do.
A concept of the Blues was made in 2008, showing the ability for birds to split. They and Red are the only known birds who were developed at that time.
The Blues' ability was never changed or even slightly modified in any slingshot-based Angry Birds game, not including the Blue Pilots' upgrade.
Jay was named "Jon" in an Angry Birds Comics as a typo. This also happened with Bomb, who was incorrectly named Bob in the Space Comic.
In the Angry Birds Transformers comics, Bluestreak transformed into a motorcycle with a sidecar as opposed to a sports car in the game a year later. This might have been a reference to the Animated version of Prowl in which he turned into a motorcycle.
When playing games that use their chrome designs, the Blues will immediately turn into corpses once the player activates their ability regardless of whether or not they touch a surface.
Jay is the only bird in Angry Birds Evolution to have a super shot name reused from other birds.
The Blues are the second characters to receive their own piece of media, with the first being Stella with the Stella series.
Luca and the Blues are similar to each other, as they are both young blue birds who are effective against glass.
In Angry Birds GO! They are the first (of the three characters) that can use your power three times, the second being Foreman Pig, and the third being Corporal Pig.
References
v • e Birds and Allies
Game Introductions

Classic

Seasons

Rio

Friends

Space

Star Wars

Star Wars II

Go!

Epic

Stella

Transformers

POP!

AB2

Evolution

Red Birds

Yellow Birds

White Birds

Black Birds

Blue Birds

Bird Island

Custom Birds

•

Journey

Web Games

Media Introductions

Other

• • • • • Obama Bird
(view: v)
Main article | Gallery | Beta elements | Credits | Glitches | Version history | Achievements | Re-releases (Lite, Lite Beta, Free, HD Free, Free with Magic, HD, PSP, Roku, Free with Magic, Trilogy, Samsung Smart TV, Kakao, China, Hatch, Time Travel, Tencent QQ, Talkweb, Rovio Classics)
Playable characters
Angry Birds (Bomb (Shockwave), Bubbles, Chuck, Hal, Matilda, Red (Mighty Feathers Red), Stella, Terence, The Blues) | Minion Pig | Small Pig | Jetpack Pig | Bomb Pig | Bowling Ball Pig | Beaked Pig | Fat Pig | Balloon Pig | Female Pig
Non-playable characters
Mechanic Pig | Mighty Eagle | Ross | Rhinoceros
Enemies
Corporal Pig | Egg | Foreman Pig | King Pig | Leonard | Minion Pigs
Episodes
Normal
Tutorial | Poached Eggs | Mighty Hoax | Danger Above | The Big Setup | Ham 'Em High | Mine and Dine | Surf and Turf | Bad Piggies | Red's Mighty Feathers | Short Fuse | Flock Favorites | Bird Island | Piggy Farm | Jurassic Pork | Birdday Party (Birdday 5) | Golden Eggs | Bonus Levels*** | Magic**
New World*
Happy New Year | Naughty Christmas | Lunar New Year of the Golden Pig | Wandering Planet | Summer: Back to the Beach
Classic World*
Year of the Goat | Moon Fest
Other
Power-up University | Mighty Eagle University
Items
Coins | Egg | Gems | Golden Egg | Power-up (Birdquake, King Sling, Power Potion, Score Doubler*, Shockwave, Sling Scope,

TNT Shield

) | Sardine | Slingshot | Lives****
Gimmicks and obstacles
Balloon | Beach ball | Cake | Cardboard cutout | Dice | Gift | Glass | Greek pillar | Potion | Stone | TNT | Treasure chest | Water* | Wood
Modes
Daily Challenge (Angry Birds Time Travel**) | Golden King Pig | The Mighty League
Music
Albums
Angry Birds (Original Game Soundtrack)
Tracks
"Angry Birds Theme"
Other
"Angry Birds Cinematic Trailer" | "Angry Birds & the Mighty Eagle" | "Angry Birds Bing Video" | "Bomb Bird: Short Fuse" | Box2D |

Destruction gauge

| Earth (Bird Island (Bird Island Beach, Eagle Mountain), Piggy Island) | Level Failed | Piggy kingdom | Rovio Account | Angry Birds: Hatching a Universe | Winnable Objects
*Appears in the Chinese version only
**Appears in Angry Birds Time Travel only
***Appears in Angry Birds Trilogy only
****Appears in Angry Birds for Kakao only
Main article | Gallery | Beta elements | Version history | Achievements | Credits | Re-releases (Free, HD, Free HD, Windows Phone, China)
Playable characters
Angry Birds (Bomb (Shockwave*), Bubbles, Chuck, Hal, Matilda, Red (Homing Bird, Telebird*), Stella, Terence (Wingman), The Blues) | Playable Pig* | Tony*
Non-playable characters
Little Timmy | Mighty Basketball | Mighty Dragon | Mighty Eagle | Penguins* | Postman Pig* | Ruby* | Santa Claus | Striped Bird | Unnamed female white bird*
Enemies
Chef Pig* | Clown Pig | Corporal Pig |

Dummy Pig

| El Porkador | Female Pig* | Foreman Pig | King Pig | Minion Pigs (Guard Pigs*) | Octopus Pig* | Scarecrow Pigs
Episodes
Ragnahog* | Hammier Things* | Piggywood Studios* | Summer Camp* | Marie Hamtoinette* | Fairy Hogmother* | Pig Days | Ski or Squeal* | Invasion of the Egg Snatchers* | Tropigal Paradise* | On Finn Ice* | Ham Dunk | South Hamerica | Arctic Eggspedition | Abra-Ca-Bacon | Winter Wonderham | Haunted Hogs | Back to School | Piglantis* | Cherry Blossom | Year of the Dragon | Wreck the Halls | Ham'o'ween | Moon Festival | Summer Pignic | Easter Eggs | Go Green, Get Lucky | Hogs and Kisses* | Season's Greedings | Trick or Treat | Exclusive Levels +
Seasons
Season 2016* | Season 2015* | Season 2014 | Season 2013 | Season 2012 | Season 2011 | Season 2010
Items
Bird Coins* | Egg | Golden Eggs (Ultrabook™ Egg) | Powerup (Allaka-BAM, Homing Bird, Power Potion, Score Doubler^, Shockwave*, Sling Scope, Telebird*) |

Present

| Sardine | Slingshot
Gimmicks and obstacles
Easter Egg | Glass | Greek pillar | Lava* | Stone | TNT | Water | Wood
Music
Albums
Angry Birds Seasons (Original Game Soundtrack) |

Best of Angry Birds Seasons

Songs
"Peace Song 2011" | "Peace Song 2012: Fly Me Home Tonight" | "Peace Song 2013: Ode to Snow" | "Peace Song 2014: Santamental Me"
Cinematic Trailers
Season's Greedings Short Movie | Summer Pignic Short Movie | Ham'o'ween Short Movie | Wreck the Halls Short Movie | Year of the Dragon Short Movie | Meet the Pink Bird | Trick or Tweet |

On Finn Ice Short Movie

Other
Angry Birds: A Halloween Special | Angry Birds: Christmas Special | Angry Birds: Hatching a Universe | Angry Birds: Moon Festival | Angry Birds: Wreck the Halls | Angry Birds: Year of the Dragon | Angry Birds Trilogy | Bird Wear | Box2D |

Destruction gauge

| Earth (Antarctica, Bird Island* (Mighty Eagle's cave*), Europe* (Finland* (Helsinki*)), Piggy Island (Pig City*), South America) | Level Failed | Moon | Piggy kingdom | Power-Up Test Site | The Pig Challenge
*Appears in the international mobile version only
^Appears in the Chinese version only
+Appears in Angry Birds Trilogy only
Main article | Gallery | Beta elements | Version history | Achievements |

Credits

Playable characters
Angry Birds (Bomb, Bubbles, Chuck (Rocket Bird), Hal, Matilda, Red (Samba Burst), Stella (Shakira Bird**), Terence, The Blues) | Blu | Jewel
Non-playable characters
Felipe | Foreman Pig | Luiz | Mauro | Nigel | Mighty Eagle | Minion Pigs | Rafael
Merchandise and marketing only characters
Charlie | Gabi | Nico & Pedro (Nico, Pedro)
Enemies
Caged Birds | Caged Dolphins | Marmosets
Episodes
Rio
Smugglers' Den | Jungle Escape | Beach Volley | Carnival Upheaval | Airfield Chase | Smugglers' Plane | Market Mayhem | Golden Beachball
Rio 2
Rocket Rumble | High Dive | Blossom River | Timber Tumble | Hidden Harbor | Treasure Hunt
Others
Playground | Bonus Levels*** | Awards Room
Bosses
Nigel (Jungle Escape) | Mauro (Carnival Upheaval) | Nigel (Smugglers' Plane) | Mauro (Market Mayhem) |

Blossom River boss

Items
Coins | Egg |

Golden Anchor

| Golden Fruit |

Golden Gear

|

Golden Rocket

|

Golden Treasure Chest

| Power-up (Call the Flock, Power Potion, Samba Burst, Sling Scope, TNT Drop, Score Doubler*) | Sardine | Slingshot
Gimmicks and obstacles
Balloon | Beach ball | Glass | Sand | Stone | TNT | Water | Wood
Songs
"Angry Birds Rio Samba" | "Angry Birds Rio 2 Theme"
Other
Super Bowl Golden Egg | Earth (Piggy Island, South America (Brazil (Rio de Janeiro))) | Level Failed! | Moon | Star | Free version | Angry Birds Trilogy | Angry Birds: Hatching a Universe
Key
* - Exclusive to the Chinese version, ** - Unused, *** - Exclusive to Angry Birds Trilogy
v • e
Playable characters
• • ( • ) • () • • • • • () •
Non-playable characters
• • • • • Sonam Kapoor Bird • Matt Damon Bird • • • VIXX • • • • • • • • •
Enemies (Accessorized Pigs)
( • • • ) • • • • • • • • • • • • • • • • • • • • • • • • • • • • • • • • • • • • • • • • • • • • •
Materials and Objects
• • • • • • • • • • • • •
Power-Ups
• • • • • • • • • • • • • •
Episodes

Other
Tournaments • Events • Star Cup • Bird-O-Matic • Ports (Mobile Port • Windows 10 Port) • Achievements • • • Angry Birds Shop • Gallery • Glitches • Unused Content • Version History • Angry Birds: Hatching a Universe
Main article | Gallery | Version history | Achievements | Credits | Glitches
Playable characters
Angry Birds (Bomb, Bubbles, Chuck, Hal, Matilda, Red, Silver, Stella, Terence (Wingman), The Blues) | Courtney | Garry | Leonard
Non-playable characters
Chef Pig | Mighty Eagle
Enemies
Corporal Pig | Eagles | Foreman Pig | Leonard | Minion Pigs (Construction Pig) | Zeta | Daft Piggies
Episodes
Bird Island/Piggy Island
Hot Pursuit | When Birds Fly | Party Crashers | Bacon Beach | Bamboom Forest | Wrecks & The City | Pigs In A Banquet
Eagle Island
Frenemies | Enter The Volcano | The Frozen Heart
Secret Area
Off The Menu | Pie Hard | Daft Piggies | Birdnapped | Finding Zeta | Midsummer Mayham
Items
Accessories | Billy | Bird Coins | The Eggs | Power-Ups (Birdquake, Boombox, King Sling, Power Potion, Sling Scope, Wingman) | Slingshot
Gimmicks and obstacles
Balloon | Billy | Cake | Dice | Donut | Easter Egg | Glass | Greek pillar | Grey block | Pumpkin | Rubber | Stone | TNT | Treasure chest | Wood | Sardine
Other

Destruction gauge

| Earth (Bird Island, Eagle Island, Piggy Island (Cobalt Plateaus, Pig City, South Beach)) | Level Failed | Piggy kingdom | Star