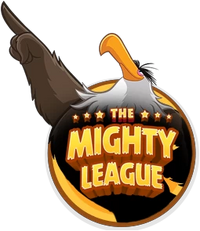 The Mighty League is a mode for Angry Birds. It is a social way to play classic levels.
The music soundtrack features the Original Angry Birds Theme in a Remix of Darude - Sandstorm, which the song itself was an internet meme.
Gameplay
Players must play every level and get a determined number of stars (Mostly recommended get 3 stars on every daily levels) on each league where they are currently into progress with the higher league. However, there is a time limit on each league otherwise. If the players fail to complete, they will be demoted into the previous league.
Each level objective requires the player to complete within the time limit and earn at least the stated score to pass the level. There will be a time bonus if completed earlier.
Each level formerly cost 1 ticket to attempt,before the tickets were removed.
The Mighty League has A LOT of exclusive stages, all of them are shown in this video: https://youtu.be/IgcWl7lnm2Y Yes they appear nowdays so the video (aside from modding and hacking for the stages to show as a regular episode) is legit.
Leagues
Feather League: Warm-up League
Glass League: Starter League. (Unlimited time)
Wood League: Require 3 stars to enter the league and 1 star to stay in league.
Stone League:
Bronze League:
Sliver League:
Gold League:Requires 150 stars to keep on the league.
Master League:The hardest league on game,the player can get into the top scores,which medals are earned.
Sticker Book
Sticker Book is an achievements page. You can get the stickers by completing each achievement in Mighty League. After getting stickers, players will receive prize eggs, which include prizes such as entry tickets and power-ups that can be used in the game.
Stickers
Trophy Stickers
Glass Trophy:Reach the Glass League
Wooden Trophy:Reach the Wooden League
Stone Trophy:Reach the Stone League
Silver Trophy: Reach the Silver League
Golden Trophy: Reach the Golden League
Master League Trophy: Reach the Master  League
Star Master League Trophy: Reach the on Top 5 list in The Master League.
Mighty Eagle Master League Trophy: Reach the the first place on the list of The Master League.
Achievement Stickers
Darude Red : Just enter the Mighty League
Give Up Of Fury Angry Bomb : Quit a level of The Mighty League
Super Star : Complete a determined number of levels in The Mighty League
Powerful: Use a determined number of power-ups in The Mighty League
Eagle Eye: Keep the Mighty Scope active for a determined time
Shockwave Hunter Jay, Jake and Jim : Obtain all the Shockwaves on Bird Island .
Movie Fanatic Chuck : Complete all the 21 levels of Bird Island .
Good Aim Red : Launch a determined number of birds on The Mighty League.
Movie Fan: Play the Bird Island episode.
Little Destroyer Pig Sticker: Pop a determined number of pigs.
Collector Matilda : Collect 20 stickers.
7 Years Old Red : Complete 7 levels on Birdday Party 7.
Social Bird Bubbles : Connect with Facebook on The Mighty League
Star Streak Red : Get 3 stars on all levels on The Mighty League in a determined number of times.
Birdday Party 7: Enter the Mighty Eagle on the 7th Birdday Party and listen to the Birdday music.
Profile Customization
The players, connected with Facebook or not, can customize their Leaderboard Buttons (Profile Information) with colours, patterns, stickers, etc. They can be obtained with Prize Eggs. They are the following:
Backgrounds
Common
Green
Blue
Yellow
Light Blue
Dark Gray
Light Green
Pastel Red
Orange 
Purple
Lime Green
Light Orange
Swamp Green
Hot Purple
Reddish Brown
Dark Green
Teal
Red
Top Shading with all these colours each;
Bottom Shading with all these colours each;
Striped Pattern with all these colours each and
Wavy Shading with all these colours each.
Rare
Checkerboard Pattern with all these colours each;
Morse Code Pattern with all these colours each and
Line Pattern with all these colours each.
Symbols
Rare
Heart Pattern
Paw Pattern
Lightning Ray Pattern
Flower Pattern
Connection Pattern
Dice Pattern
Present Pattern
Down and Up Pizza Slice Pattern
Scaly Pattern
Royal Patterm
Street Cone Pattern
Easter Egg Pattern
Pin Pattern
TNT Crates Pattern
Wrench Pattern
Lit Candle Pattern
Ribbon Pattern
Powerful
Animated Lifting Stars Pattern
Animated Moving Clouds Pattern
Animated Appearing and Disappearing Stars Pattern
Animated Falling Snowflakes Pattern
Animated Arrows Flying To The Air Pattern
Animated Falling Rain Pattern
Animated Lifting Pattern
Animated Falling Eggs Pattern
Animated Falling Feathers Pattern
Animated Falling Showels Pattern
Animated Appearing and Disappearing Snouts Pattern
Animated Moving Televisions Pattern
Stickers
Legendary
''Aim High'' Sticker
Angel Jay Sticker
Pig Challenger Sticker
''Air Attack'' Sticker
''Fly Guy'' Bomb Badge Sticker
''Aim High'' Chuck Badge Sticker
''Top Hog'' Pig Badge Sticker
''Code Red'' Red Badge Sticker
Baseball Jake Sticker
Bat Sticker
Jay, Jake and Jim Star Badge Sticker
Skateboard Jim Sticker
Pixel Bomb Sticker
''BOOM!'' Bomb Explosion Sticker
Blue Pig Mask Sticker
''Bird is the word''Chuck Sticker
Four Leaf Clover Sticker
Pop Art Happy Chuck Sticker
Pop Art Rapping King Pig Sticker
Pop Art Smiling Pig Sticker
Crown Sticker
Devil Jay Sticker
Vampire Red Sticker
Mighty Eagle Sticker
Chinese Fan Sticker
''Like A Flash'' Sticker
''Flashy'' Sticker
Hot Pink Flower Sticker
Football Chuck Sticker
Ghost Sticker
Happy Movie Jay Sticker
Heart-Shaped Chocolate Box Sticker
''Packin' Heat'' Sticker
Golden King Pig Astec Calendar Sticker
''KO!'' Sticker
''Oink'' Sticker
Pig Skull Sticker
Pirate Foreman Pig Sticker
''Pigs'' Sticker
''Like A Flash'' Sticker
''Cute'' with Rainbow Sticker
Hambo Sticker
Rocker Red Sticker
King Red Sticker
Bird is the word Red Sticker
''Time To Ride Red Ski Badge Sticker
''Royal'' Sticker
Samurai Pig Sticker
Rocker Stella Sticker
SkiRed Sticker
Small Slingshot Sticker
''AB'' Slingshot Badge Sticker
Snail Pig Sticker
''SQUAWK!''
Golden Red Star Badge Sticker
Ski Stella Sticker
''Take FLIGHT!'' Sticker
Tiki Pig Sticker
Zombie Pig Sticker
Gallery
Icons
Sprites
v • e /
Protagonists
( • ) • () • () • () • () • () • () • () • () •
Antagonists (Accessorized Pigs)
( • • • ) • • • •
Materials and Objects
• • • • • • • • • • • • • • • • • • • * • •
Power-Ups
• • • • • * •
Episodes

Cinematic Trailers
• • • Red's Mighty Feathers Cinematic Trailer • Short Fuse Trailer
Miscellaneous
Angry Birds Theme • • • Cutscenes • Lives**** • • Daily Challenge •
Further Info
Achievements • Free Version (Lite • Lite Beta) • Gallery • Angry Birds (game)/Videos • Glitches • List of Levels • Soundtrack • Unused Content • Version History
Key
* - Exclusive to the Chinese version
** - Exclusive to Angry Birds Time Travel
*** - Exclusive to Angry Birds Trilogy
**** - Exclusive to Angry Birds for Kakao
Community content is available under
CC-BY-SA
unless otherwise noted.