The Prankster

ABStellaAnimatedSeriesEP9TitleCard.png
Information
Episode No.
9
Air Date
December 27, 2014
Directed by
Ami Lindholm
Written by
Amy Mass
Birds
Template:Stella Characters Template:Stella Characters
Pigs
Unknown
Order
Previous
Next
Own The Sky
Piggy Love
The Prankster is the ninth episode of Angry Birds Stella Animated Series.
Toons.TV Description
Poppy is on a prank rampage leaving Stella and the flock on edge. To get even, the flock devises the ultimate prank on Poppy, but can they truly outprank the prankmaster?
Characters (in order of appearance)
Plot
Dahlia wakes up and finds that everything is hanging upside-down. When she tries to get up, she discovers that she is super-glued to the ceiling, along with everything else in the lab. Then Poppy reveals the super-glue, and everyone thinks it is funny. Then, Poppy places a leaf over a hole in the floor. She places a cherry on top of the leaf. Luca notices the cherry and falls through the hole.
Willow notices him, and tries to help. But Poppy makes a loud noise, causing Willow to fall off the edge of the floor. Luca and Willow fall through a series of paintbrushes, flowers, and trampolines, before crash-landing. Poppy and Stella both start laughing, but then Stella runs away. Poppy goes to Stella's house and brings her a glass of water. Stella is skeptical, but drinks it anyway, only to get covered in red feathers, and Poppy pushes her off the floor. Stella falls, screaming, and Poppy takes a picture of her. After that, all 4 pranked birds decide to scheme against Poppy. They build a water bucket prank, but Poppy sees it from above. Later, she pretends to be oblivious after she grabs the maracas and gets soaked. She then starts fake crying, and motioning towards some sliced pineapple. They haven't learned their lesson, because they get a pie in the face when they step on a pressure plate. The victims have lost their temper now. They slowly start approaching Poppy, who is rolling on the floor laughing. She ends up rolling off the edge, going into the paint, feathers, and glue that she used to prank Willow, Luca, Stella, and Dahlia. She then gets stuck on a tree. The 4 start laughing, but Poppy starts laughing as well, annoying them, because they want her to be mad instead of laughing. 
Gallery
Trivia
It is the second episode in a row to not have Gale and the pigs in it. First was Rock On! and second was Own The Sky.
This is the first time that Willow took off her hat and on the top of her head has 10 colorful crest feathers including, blue, aquagreen, yellow, orange and purple.
The scene in which Poppy makes the joke to Stella of the red feathers and she falls from the tree house is a reference of Chuck Time from Angry Birds Toons.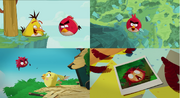 This is the first time a bird's color was temporarily changed without being a bird 's ability or mocking. This episode had Stella which was pranked by Poppy with red feathers. The second was Jay, Jake, and Jim in Robo-Tilda which Jay was sun burned.
The Prankster in the title card is written with glue and there are blue and pink feathers.
Despite being covered in red feathers, Stella doesn't have a similar appearance to Red, which might be because the tips of her tail feathers are round while Red's tail feathers are flat-ended.
Errors
When Poppy is in the trap before the water bucket falls down, the maracas are there, but when the bucket of water is poured over her, the maracas are gone.
Community content is available under
CC-BY-SA
unless otherwise noted.