The Tiny Minion Pig is a pig that appeared in
Angry Birds Toons
for Two Episodes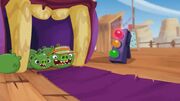 Appearence
Due to his age (A piglet), the Tiny Minion Pig is a small pig, smaller than any of them. He has large eyes that have large black pupils which shine, causing a type of cuteness.
Personality
The Tiny Minion Pig is a very happy pig that is optimistic and loves his toy pony. But cries in a bunch of moments such as his toy pony breaking or not getting onto a rollercoaster due to his size. He also loves his brother, which is larger than him.
Gallery
Community content is available under
CC-BY-SA
unless otherwise noted.