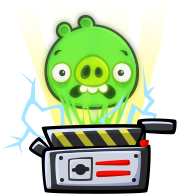 Trapped Pig is a pig in Angry Birds Friends! that appeared in the Double Trouble Tournaments, during the T-Bone vs Pigtoking Tournament and Halloween Mania Tournament levels.
Appearance
He is a scared pig hologram that is trapped in a Monster Trap that has yellow and black trapdoor, red lines and a black switch and lever. There are lightning bolts when it opens.
Gameplay
The Monster Trap appears as an object in the levels, smaller birds such asRed and The Blues can only open it and then any bird can defeat the pig, heavier birds or Powered-Up birds will destroy the trap easily. The pig is required to be defeat in order to complete the level.
Gallery
Trivia
The Monster Trap is a reference to Ghostbusters, where they are exactly the same and used by the busters to trap monsters.
v • e Pigs/Enemies
Game Introductions

Media Introductions

Others
v • e
Playable characters
• • ( • ) • () • • • • • () •
Non-playable characters
• • • • • Sonam Kapoor Bird • Matt Damon Bird • • • VIXX • • • • • • • • •
Enemies (Accessorized Pigs)
( • • • ) • • • • • • • • • • • • • • • • • • • • • • • • • • • • • • • • • • • • • • • • • • • • •
Materials and Objects
• • • • • • • • • • • • • •
Power-Ups
• • • • • • • • • • • • • •
Episodes

Other
Tournaments • Events • Star Cup • Bird-O-Matic • Ports (Mobile Port • Windows 10 Port) • Achievements • • • Angry Birds Shop • Gallery • Glitches • Unused Content • Version History • Angry Birds: Hatching a Universe