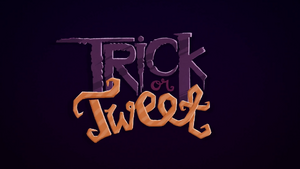 Angry Birds "Trick or Tweet" is a trailer promoting the release of Haunted Hogs of Angry Birds Seasons on October 6, 2012.
Plot
Jay, Jake and Jim are trick or treating head towards a spooky house. They knock on the door, only to be frightened by the homeowner and leave, dropping their collected candy. The homeowner then takes all of the candy after the Blues flee. The homeowner does this several times to others, including Chuck, Matilda, Bomb and Red, scaring them and stealing their candy, which they all dropped. Bomb comically exploded continuously while running away. After a while, the homeowner is revealed to be Bubbles in a Porkenstein outfit. Bubbles gaze at his large collection of candy and start to eat some of it. He is then interrupted by a loud knock on the door. Bubbles put back on his pig outfit and opens the door. At the doorstep is everyone who has been scared by Bubbles, which they are angry, implying that they found out about Bubbles' prank. Terence is also present, and says "Trick or Treat" in a low, dull voice as the door opens. The scene then ends in ambiguity.
Video
Gallery
Trivia
This is one of the few animations to have dialogue, as all of the Birds scared by Bubbles said, "Trick or Treat," as well as Terence. Which is unusual because he had never spoken in his life.
Terence is the only bird to not get scared by Bubbles.
This is the first time Bubbles gets a comeuppance for his greed of candy, in this case, confronted by Terence.
The Blues were dressed up like a mummy, a bat and the Grim Reaper, Chuck as a pumpkin, Matilda a doctor, Bomb a vampire and Red as himself (with a fake ax on the head).
This is the last Angry Birds Halloween animation to date where a bird other than Bubbles appears.
This is the first short where the characters use their Toons design.
v • e

Cinematic Specials

• • •

Red's Mighty Feathers Trailer

• Short Fuse Trailer
• • • • • • •

 ·

 ·

• What did Curiosity find on Mars? • Mirror Worlds • Angry Birds Space Solar System Trailer
Bad Piggies Cinematic Trailer • Bad Piggies First Birthday
•
Angry Birds Stella Comic-Con Trailer

 ·

Angry Birds Reloaded Cinematic Trailer

Angry Birds Journey Cinematic Trailer

• •

 ·

 ·

 ·

 ·

 ·

 ·

 ·

Other
Bomb's Christmas
Main article | Gallery | Beta elements | Version history | Achievements | Credits | Re-releases (Free, HD, Free HD, Windows Phone, China)
Playable characters
Angry Birds (Bomb (Shockwave*), Bubbles, Chuck, Hal, Matilda, Red (Homing Bird, Telebird*), Stella, Terence (Wingman), The Blues) | Playable Pig* | Tony*
Non-playable characters
Little Timmy | Mighty Basketball | Mighty Dragon | Mighty Eagle | Penguins* | Postman Pig* | Ruby* | Santa Claus | Striped Bird | Unnamed female white bird*
Enemies
Chef Pig* | Clown Pig | Corporal Pig |

Dummy Pig

| El Porkador | Female Pig* | Foreman Pig | King Pig | Minion Pigs (Guard Pigs*) | Octopus Pig* | Scarecrow Pigs
Episodes
Ragnahog* | Hammier Things* | Piggywood Studios* | Summer Camp* | Marie Hamtoinette* | Fairy Hogmother* | Pig Days | Ski or Squeal* | Invasion of the Egg Snatchers* | Tropigal Paradise* | On Finn Ice* | Ham Dunk | South Hamerica | Arctic Eggspedition | Abra-Ca-Bacon | Winter Wonderham | Haunted Hogs | Back to School | Piglantis* | Cherry Blossom | Year of the Dragon | Wreck the Halls | Ham'o'ween | Moon Festival | Summer Pignic | Easter Eggs | Go Green, Get Lucky | Hogs and Kisses* | Season's Greedings | Trick or Treat | Exclusive Levels +
Seasons
Season 2016* | Season 2015* | Season 2014 | Season 2013 | Season 2012 | Season 2011 | Season 2010
Items
Bird Coins* | Egg | Golden Eggs (Ultrabook™ Egg) | Powerup (Allaka-BAM, Homing Bird, Power Potion, Score Doubler^, Shockwave*, Sling Scope, Telebird*) |

Present

| Sardine | Slingshot
Gimmicks and obstacles
Easter Egg | Glass | Greek pillar | Lava* | Stone | TNT | Water | Wood
Music
Albums
Angry Birds Seasons (Original Game Soundtrack) |

Best of Angry Birds Seasons

Songs
"Peace Song 2011" | "Peace Song 2012: Fly Me Home Tonight" | "Peace Song 2013: Ode to Snow" | "Peace Song 2014: Santamental Me"
Cinematic Trailers
Season's Greedings Short Movie | Summer Pignic Short Movie | Ham'o'ween Short Movie | Wreck the Halls Short Movie | Year of the Dragon Short Movie | Meet the Pink Bird | Trick or Tweet |

On Finn Ice Short Movie

Other
Angry Birds: A Halloween Special | Angry Birds: Christmas Special | Angry Birds: Hatching a Universe | Angry Birds: Moon Festival | Angry Birds: Wreck the Halls | Angry Birds: Year of the Dragon | Angry Birds Trilogy | Bird Wear | Box2D |

Destruction gauge

| Earth (Antarctica, Bird Island* (Mighty Eagle's cave*), Europe* (Finland* (Helsinki*)), Piggy Island (Pig City*), South America) | Level Failed | Moon | Piggy kingdom | Power-Up Test Site | The Pig Challenge
*Appears in the international mobile version only
^Appears in the Chinese version only
+Appears in Angry Birds Trilogy only