Template:Infobox episode 2Tropigal Paradise is the twenty-first episode in Angry Birds Seasons. It is the first official episode of the Season 2015 package. It was released in April 2015 and is promoting the Help For Endangered Birds  introducing Bird Life and a bunch of birds appear on the levels on the first page.
Golden Eggs
Get three stars on all levels.
Located in Level 1-7. It is hidden under a pile of leaves and you would use Chuck to obtain it.
Located in 2-4. Use Bomb to blast the camera attached to the wooden sign.
Cutscene
The cutscene shows the player completes level 2-13
It shows that Jay, Jake and Jim defeated the Tribal Pigs.
Trivia
The episode's name is a pun on the phrase «Tropical Paradise».
Another episode of Pig Days was released a day after its release.
On level 1, there is a pineapple in the water, referencing to the cartoon character Spongebob Squarepants, who «lives in a pineapple under the sea».The pineapple has been moved to surface in recent updates,to look like seaweed.
In this episode, the trees are no longer made by blocks.
The fire in this episode is no longer an original block.
The island in the background closely resembles Golden Island and the one that appears in Party Ahoy.
Even though Toons sprites are made in the background, bird sprites still have not changed.
This is the first time only one bird appears in the level selection.
Gallery
Trailer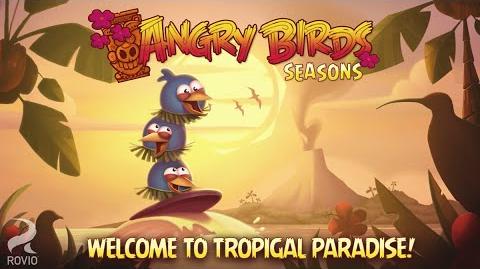 Template:AngryBirdsSeasonsEpisodes