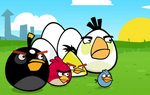 Retired
AMslimfordy is a previous staff member of this Wiki who was either voted out, resigned, became inactive without warning, or asked to leave the staff.
I'm
AMslimfordy
, or "Slim" for short. I'm the chief moderator of comments on
AngryBirdsNest
. I also handle a lot of the
bugs and glitches
, both analysis of them and reporting them to Rovio. As a
number theorist
, I'm also trying to help out on the
leaderboards
to keep them legitimate.
If you'd like to learn more about myself and the rest of the team check out our bios. Cheers!
Please subscribe to our RSS feed and be sure to check us out on:
Community content is available under
CC-BY-SA
unless otherwise noted.