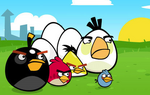 Retired
AquaChoco1997 is a previous staff member of this Wiki who was either voted out, resigned, became inactive without warning, asked to leave the staff, or is deceased.
Hello, I'm AquaChoco1997.
I was an admin and bureaucrat of the Angry Birds Wiki. I'm no longer active and retiring from this wiki for reasons I talked about on my blog post, go read here for more info. Thank you.
Edited pictures I made for AB Wiki
AB Wiki wordmark designs