Hi, Welcome to my Profile! :)
My Personality
Expect craziness here, I love to talk and editing this wiki with the latest pictures and info! My Favorite color is blue, I LOVE to draw, and sketch. I think everyone should express themselves like how I do! I'm very social! Talk to me any time! about anything, I'll listen :)
Contact Info :P
You can message me privately on Facebook, Twitter, Instagram, And Google Plus, Or Just Text me on here, I won't reply as fast on here though

Nicknames: Bluejay, Jay, Michael (My real name), and Big Mike, Mike, BOO JAY
My Favorite Characters
My favorite bird is Terence! He's so cool, How can you not like him? ( i guess you wouldn't like him if you were a piggy :p)


When people talk about me and Terence or mention him to me, they call him my "SENPAI". 

Then there's this crazy bird right over there! ------>
She's really awesome! I just love her design and personality, and personally I think we need a bird-like her!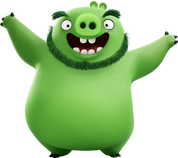 Also, there is Leonard, he's a real pig! I just love his personality and voice actor Bill Hader did an amazing job bringing him to life!
---------------------------------------------------------------------------------------------->
My Favorite Angry Birds Games (The list is the most active I play, to least active):
Angry Birds Transformers
Angry Birds 2
Angry Birds Stella
Angry Birds
Angry Birds Action
Angry Birds Seasons
Angry Birds Go!
My Favorite Merchandise:
Lego
Pig City Tear-down
Bird Island Egg Heist
Piggy Car Escape
Plushies
Terence (8 inch) Space (5 inch)
Normal, Movie Red (5 inch) Space (8 inch)
Normal, Baseball, and Movie Bomb (5 inch)
New Stella (5 inch)
Luca (5 inch)
Gale (5 inch)
Space and Normal Chuck (5 inch)
Foreman Pig (5 inch)
Minion Pig (5 inch)
King Pig (8 inch)
Silver (HomeMade)
Female Red Bird (12 inch)
Books
Art of The Angry Birds Movie
Angry Birds Movie Official Guide
Angry Birds: Hatching a universe
Angry Birds Movie: Big Movie Eggstravaganza
National Geographic Angry Birds
National Geographic Angry Birds Seasons
Angry Birds: The Complete Sticker Collection
Angry Birds Stella Magazine
Angry Birds Comics Issues #1, #3, #4, #6
Angry Birds Comics 2016 #1, #4, #5
Angry Birds Transformers Comics Issues #3, #4
Super Angry Birds Issues #1, #2, #3
Angry Birds Go!
Jenga
Pirate Pig Attack
Tower Knockdown
The Blues
Bomb
Terence
Corporal Pig
Bubbles
Foreman Pig
Telepods
Red
The Blues
Chuck
Bomb
Matilda
Hal
Bubbles
Stella
Corporal Pig
Foreman Pig
and a bunch of other merchandise that I don't wanna bother typing down
Fun Facts!      
I have a YouTube Channel
I've won a Stella Plush from Rovio
I love editing videos, and making series!
I've made around 356 and counting Cubie Crafts
My Favorite TV Show is The Office!
I'm very energetic
I like to talk, a lot!
My Other Fandom's
Community content is available under
CC-BY-SA
unless otherwise noted.