Hey-yo Fandom User, I am ChickenLover21, the current owner of the Angry Birds Wiki! I mainly keep up with the Version Histories of the active games, update the FandomMobile UI and the Mainpage with new information based on the series and more! I also help out with preventing vandalism and misinformation on the wiki. Since starting on the wiki June of 2020, I have realized that this wiki has been through retiring admin waves in 2017 and 2021, so in the same year, I offered to expand the wiki and update it with information from the current views of Rovio and the Angry Birds series in the 2010's + 2020's! If you need to ask a question about an article or user, please message me on my Message Wall. Below is just more info about my stance on the franchise.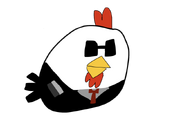 I've been playing AB games ever since 2010 and still do to this day! I first found out about Angry Birds back in mid-2010 when going to a shoe store in my local town. There was a guy that was handing out free Angry Birds commonwealth plush toys in the store to 1 per family with a purchase of a shoe (I believe anyway) and I was given a Red plush toy. When realizing it was a phone game, my parents downloaded it on their iPhone and I instantly became hooked on the game. From there the rest is history. Also I'm pretty active in the AB community to this day since the end of 2019. [Scroll down for more info]
Wiki Stats:
Other Wiki's I occasionally edit:
Pages I created/edited the most to
For list, see User:ChickenLover21/Created Pages

Favorites Graphs
Favorite Birds and Pigs

| Image | Name | Description |
| --- | --- | --- |
| | Terence | I like him because he's very OP in basically every game he is in. Also his personality is very pog |
| | Bubbles | I also like him because he is basically a better version of Bomb (especially in AB2). It's very satisfying pushing the tower with perfect timing into the void. Also, he was voiced by Ethan from Smosh in the First movie so there's that ig. |
| | Lenoard | I like this pig because his ability in AB2 also takes very precise timing and when done correctly, it is very nice to see. Also his character development is interesting in the movies |
| | Foreman Pig | P̶̧̧̛̝̞̦̼͇̖̜̲͚̘̙͚͌͛̊̋͋̔̅͊͐͌̚͝͠͝ŕ̸̢̠͎̳̬͚͔͙͙͖̗͙͖͂͌͘͝ͅa̴̢̟̜͚͋̋̀͛̃́̐̒͗̂͛̇͝į̸̢̥͙̭̔ś̵̡̮͕͔̣̣̖̳̙̗̦͉̘̬̫̋̎͆̀̕͝è̷̡͙̬̟̫̳͎̖̯͕̦͂́̑̽̏̈́͗̎́͜͝͝ͅ ̴͙͓͔̠̖̇͐̈̈͘͘͝͠ț̸̢̢̫̪̺̜̟͔̲͋͊́̿͂̆̓̈́͠͠ḧ̶̛̳̱͓̖͔̱̟͔̯̖̗̞̘̯́̍̍̑̐̄͂̌̈́̀͆̀̂͝e̶̤͔͎̣͓̗̣̻̜̙̪͗͗̅̋̓̏̄͐̂͗́̇̈́͘͝ͅ ̸̛͎̲̦͍̺̤̫͓̻̭̾̃̾̇̽̽̇͒̓̊̽̽̄͐F̸͓͔͖̹̤̅̅ǫ̸̬͉̯̙̝͕͕̮͚̘̞̩̼͂̎̋̾̀̒̀̾̕r̴̯̆͘͘e̴̢̠̤̙͉̰̯̯̞̙̯̓ḿ̸̧̫̩̬͓̰̜̤̱͈̩̃̍̈́̕a̷̡̧̛̬̟͉̪̰͕͈̜̦͔͑̋̓̐̋͒͘ͅn̷̟͔͈̰̭͔̲̋̋̾̓̍ͅͅ ̷͓̲͇̖͕̩̹̹̗̹̅̿̎̄̆̓͛̃͘C̵̥̻͇̺͉͎̖̘̠̦̹̞͈̝̘̀U̸̡̱͓̭̫̺̹̬̬̮̍̔̉̿̀̅͋͊͗̐́͜͝͠ḷ̶̨͓͍̌̃̉͝t̷̟̒̊ |
Favorite AB Games
Image
Name
Description
Angry Birds 2
What can I say... this is how you do a sequel! The even more satisfying game mechanics tied with daily challenges and clans makes it a no brainer for top 10 games to download for a road trip or even offline play.
Angry Birds Seasons
Honestly, this is basically Angry Birds, but better. The soundtrack slaps, the visuals are great as always and the game helps me get into a festive mood whenever I play it! (Also I'm one of those people who only plays a holiday episode when the actual holiday/season is occurring lol).
Angry Birds Fight!
So... I really like Angry Birds Fight. It reminds me of another game (not best fiends, but one before that where you matched jelly's. Please lmk what it was called), but with a twist. You are encouraged to get the highest score while versing another player in a 1v1 (or even sometimes 4v4 team vs team) match and when the time runs out, you can see an animation of your bird/pig fighting your opponent and it determines if you have won the match or not by health and attack power. It's servers have sadly been taken down from what I've heard, many people were cheating in the game, but I don't really remember finding many of them. A̶l̶s̶o̶ ̶R̶o̶v̶i̶o̶,̶ ̶p̶l̶e̶a̶s̶e̶ ̶r̶e̶f̶u̶n̶d̶ ̶m̶e̶ ̶t̶h̶e̶ ̶$̶4̶.̶9̶9̶ ̶I̶ ̶s̶p̶e̶n̶t̶ ̶o̶n̶ ̶t̶h̶e̶ ̶U̶n̶c̶l̶e̶ ̶S̶a̶m̶ ̶b̶u̶n̶d̶l̶e̶ ̶l̶o̶l̶
Angry Birds Isle of Pigs (VR & AR)
This game is surprisingly really fun to play. I would even say it's more fun (and interesting) than Reloaded with its small easter eggs, somewhat of an original storyline, and the advantage of motion controls with the VR version. So far I've 3-starred all levels in this game and the soundtrack is amazing as well with the combination of smooth jazz and up-beat music from piggy island. The AR version is also pretty cool as well. It's actually not a bad port, but the different soundtracks and scenery get lost in the end for the AR version, but it's a good way for people to try the experience for free and then decide if they would want to pay for the VR version.
Angry Birds Next
Since I have signed an NDA that expires in 2 years or until the game releases, I can't say anything about it in detail, but when it does come out, it will be a very fun multiplayer experience for people across the world! (Also fun fact: I was one of the top 5 active users during the play testing, so that's pretty cool!)
Angry Birds Epic
I don't have much to say about this one, because the last time I've played it was around 2017, but I've seen people recently attempting to speedrun the game. I have played this game a lot back then (2014 - 2017) and I got very far in the story mode (up at the cave entrance) but then my tablet got outdated to the point where the game won't execute on the hardware anymore. I liked the game mechanics and special abilities each bird and pig had (did I mention it was my very first turn based A-RPG I've ever played?). Also why was Sonic in the game that confused the heck out of me back in the day lol
Angry Birds Tennis
This was one of the few failed games released in 2020 that were soft-launched in certain countries. I first tried AB Tennis when it had it's first version and it was actually pretty fun for what it was. While everyone else in the classroom (pre-COVID lockdown) was playing Mario Kart Super Circuit, I was playing AB Tennis lol. I liked the concept very much, but the textures and animations were buggy. Then in the "2.0 Update", they fixed the models and animations, but the game was very buggy to play (mentioned more in the article here). It was also one of the first AB Games to have a Discord Server. Sadly it went on and off for a few times until in late 2020, they shut down the servers for good. Full video on gameplay below. The concept had really good potential, but their old CEO didn't understand that very well. :'(

Angry Birds Dream Blast
Now hold on everyone, before I get cancelled online for having this opinion... hear me out. Even though I don't like generic puzzle games much, I still do like this one. This is more of a "Well, idk what else to do today, I got my daily tasks done and I have 30 minutes to kill" type of gams. The atmosphere it creates is actually kind of relaxing and the soundtrack is pretty good. Now, would I play it ever yday? No. But it really hits the casual audience of people really well and it's a good way to get people out of the loo back i to the franchise.

Edit 2022: It's alright, but it's absolute torture to grind the levels during an in-game (mostly seasonal) event.
Played Games
"The Vault"
Trip down memory lane (Circa: 2012)
Memes