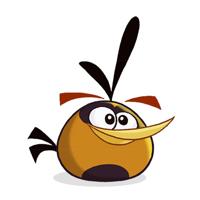 Welcome to my Page!
My favorite pages
Hello Feathery Friends! I am Ham O Ween, but you can call me Ham! I'm From Bubbles Species and Bubbles' Cousin! I live on Piggy Island with the rest of the Flock! Know no more chit chat! Lets have some fun!
Angry Birds Versions I Own!
Angry Birds
Angry Birds Seasons
Angry Birds Rio
Angry Birds Star Wars
Angry Birds Star Wars 2
Angry Birds Go!
Angry Birds Stella
Angry Birds Transformers
About me
Hello, I'm Ham O Ween! aka Ham! I am best friends with Bubbles and The Blues, And I'm Bubbles' Cousin! I'm a Student and has 3 younger brothers.(Carson The Toucan, Sawyer the Cardinal, and Finley the Blue Jay.) My favorite Bird is (Of Course!) Bubbles. and my favorite pig is Fat Pig. My favorite AB game is Angry Birds Transformers. Please make sure to check the new page! Angry Birds Movie! Coming July 1st 2016! Can't wait to see it! What about you?? I'm also a Big Fan of Star Wars. :D Well that's all I have to say! Keep on Slinging and Ham On!
Friends List
If you would like to be my friend, simply type in your Wiki username
My Favorite Characters
The Flock/Birds
Bad Piggies
My Favorite AB Toons Episodes ( Season 1 and 2 )
The Flock
The Bad Piggies
Community content is available under
CC-BY-SA
unless otherwise noted.