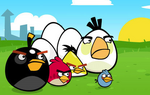 Retired
Qazqaz555 is a previous staff member of this Wiki who was either voted out, resigned, became inactive without warning, asked to leave the staff, or is deceased.
Hi. I'm Qazqaz555. I am also simply known as Qaz. I'm a former member of the staff.
About Me
I've played Angry Birds ever since the original became a big hit, and I've grown to like it over the couple of months of playing it, though I'm not really obsessed with it. I also have the Seasons, Rio, and Space versions.
For those of you who haven't noticed, there is a user on Photobucket that goes by the same username as me: qazqaz5555. I am not that user.
Favorite/Least Favorite Birds
Favorite Birds
Least Favorite Birds
Other Active Wikis:
Signatures
Achievements
1000th edit - December 26, 2011
2000th edit - July 17, 2012
3000th edit - September 10, 2012
4000th edit - November 10, 2012
5000th edit - March 11, 2013
6000th edit - October 31, 2013
External Links
User:Qazqaz555/Pages I Created
User:Qazqaz555/Committee Group Requirements Draft
|}