I can't tell what is this picture suppose to show.
Low Quality Image Found
One or more of the pictures on this article is very low quality. Help this page by uploading a better quality image here.
Bomb has locked this page
In order prevent the addition of any "fanon", Bomb has protected this page until further notice. Please leave a message on the Talk page if you wish to contribute to the improvement of this page. If the page is unlocked, please remove this template.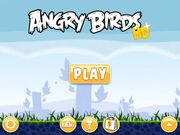 I edit page because I need to
The Blues
Abilities
Splits into 3
First Appearance
Poached Eggs 1-10
Gender
Male
Species
Mountain Bluebirds (Sialia Currucoides)
Locations
Various levels after Poached Eggs.
Strength
Super Strong
Size
Small

   The Blues first made their debut in the original Angry Birds
My favorite pages