Hi everyone. First of all, I want to introduce myself to those who don't know me.
I'm AquaChoco1997, I've been on Wikia/FANDOM for 11 years. I joined this wiki around 2012, then I became a staff in 2015. And I used to be an Angry Birds fan from 2011 to somewhere in 2019...or until into this point.
When I first joined this wiki, I haven't done anything much besides uploading the images until a few years later when those two games Angry Birds Epic & Angry Birds Stella were first announced and came out, that was where I began to motivate myself to edit pages on the Angry Birds Wiki for help, mainly finding better quality images at the time. Eventually, I got promoted to be an "Image Unit" member in 2015, then I got promoted to be an Administrator/Bureaucrat in the same year. Since then, I spent my time helping this wiki like almost every day. ...Until it won't go last longer.
If you're wondering why I'm retiring from the Angry Birds Wiki. Well, I have three reasons.
I'm no longer interested in Angry Birds franchise
The first reason is pretty much what you expected, I'm no longer interested in Angry Birds.
I used to be very positive about Angry Birds throughout the early years, games like Classic, Seasons, etc. were fun to play and such, until my opinion on this series began slowly changed somewhere in 2015 when I saw an announcement that the game Angry Birds Stella would be discontinued and how I get disappointed with Rovio for the first time. It's really a shame because it was a really fun game overall.
I had mixed feelings when Rovio created these Angry Birds games that were released as a soft-launch before they release them worldwide, some are interesting and some are not good. Although some got made it to release worldwide, but it bothers me is that some of these soft-launch games were discontinued before they were even released. I'm not sure why these games were created and didn't work out in the first place.
When Rovio decided to remove the older Angry Birds games from the app store around in 2019 for "testing purposes" and how the fanbase has become like a storm for that reason. Originally, I was about to lose my interest in Angry Birds completely due to that, but I'll go into another subject for later.
I stopped following Angry Birds around that same year (aside from me still playing some AB games for the wiki until 2021), I don't know what other Angry Birds news I missed out so it doesn't matter to me.
Before you asked, yes, I'm aware of Rovio made a statement that some of the older games would remade and return to the app store and things have been cooling down. Recently they re-released the first game. You know I'm glad to hear that, but that damage from 2019 is already been done to me so it's too late to recover the interest to come back to this series.
It's complicated to talk more problems about the franchise (and the company Rovio itself) that fans already know. So you get the idea.
The fanbase
Another reason is the fanbase, mainly because of the toxicity. Like every other fandom, it always has some bad apples in it. This is complicated to talk about as well so I'll keep it short.
As someone who's been on the Angry Birds community (in general, not just on this wiki) for a long time, like even before that storm happened in 2019, I've seen dramas where people were arguing at each other, flame wars, and some bad people in the AB fandom as well.
I was about to lose interest in Angry Birds completely because of those two main reasons, but yet, I realized that my only hope for keeping myself associated with the series is to keep doing my job on the Angry Birds Wiki until whenever I'll be retired. My final goal here was to update the whole wiki with its templates, article pages, etc. as much as I could before I'm about to leave. Around that same time, this wiki only had a few active staff members remaining because other staffs were either become inactive or retired. Also, I was the only Administrator/Bureaucrat who remain active on here until I promoted ChickenLover and others as staff members.
I'm not gonna lie, while I was doing my work for this wiki from 2020 to now, I didn't feel enjoy it as much because of two reasons I talked about it before. Please don't get me wrong, I like to help and edit stuff on Wikia/FANDOM that I've been on this site for many years. But whenever I go on the this wiki nowadays, not only it doesn't make me feel happy like it used to, it's the amount of stress I went through.
I don't like the Discussion page feature (a replacement from the old Forums page) that FANDOM added due to toxicity/drama there.
While I was in the process to update the whole wiki, FANDOM introduce their new updates such as UCP and FandomDesktop gave me extra work to fix the codes from outdated stuff.
I noticed people don't follow this wiki's guidelines/policies these days.
I demoted one of the former content-moderator in July of last year for being overpowered on here.
Every time I've seen people creating drama on this wiki, especially on the Discussions page (like almost every day?) makes me feel I'm not in the mood for editing the wiki around that moment.
These whole big situations in the past months from last year to now were really frustrating and I still am in the current time. This is one of the reasons why I haven't been edited on this wiki very much.
I won't be able to complete some other tasks for my process to update the whole wiki that I was planned for or wanted to finish on due to those reasons I've said that push me away, it makes me feel I want to give up my final goal. Also, I'm running out the time which leads to the third and last reason.
Focus on personal life and other things
The last reason I mentioned how stressed I was, I realized how important my personal life is. Things have changed for me in recent years, I want to focus on things that are less stressful than on this wiki.
At some point, I'm going to deactivate my account after I'm leaving from this wiki and other wikis I want to finish on. I'm not feeling happy to keep up using this account for a long time, I want to move on to better things I'm comfortable with. So please respect my wishes.
Conclusion
Before I'm going to end this post, Angry Birds is a well-known mobile game series that many people talked about in the early days when it was really popular back then, this series is still going to this day, but it wasn't really popular as it used to be.
As I mentioned from the beginning, it's not just me being on this wiki, but it's also my experience with Angry Birds and its community in general in the past 10 1/2 years. If I wasn't for Angry Birds, I won't get all of these journeys I've been through.
It was fun to work on this wiki, my interest in Angry Birds is about to end because working on this wiki was my last hope to keep myself associated with the series. I'm ready to move on.
I want to thank everyone I've met throughout my experience with Angry Birds over the years, old and new.
I want to thank my friends and other amazing people I met from the early days of the AB community in general from 2011-2019 - outside of this wiki (other social media sites), I'm glad to meet them that we had a good time talking about Angry Birds back then and other good moments we had. I feel bad I haven't talked to them very much nowadays because I'm busy and they're busy too. Some have moved on, and that's okay.
As you guys may or may not know, I'm an artist. I used to draw fanarts of Angry Birds like a lot back in the day. lol
So to anyone who recognized me for that, you know, such as this one, that one, and that one. I appreciate you guys for liking these old drawings I made. It was fun to draw these characters and Angry Birds OCs (mine and anyone else's). I remember some of my old AB fanarts got featured on their official Facebook page (and their other social media accounts too) and on the AB's official website (their old layout in 2014-2016), it was amazing. If you're curious about if I still draw Angry Birds related, I don't draw them anymore, I kinda stopped because of the reasons I've said in this post.
I want to thank the remaining and former staff members I've met on the Angry Birds Wiki - The Boomerang, Angry Hearts, Bp101697, PrinceGoldenGale, Iamarepeater, ChickenLover, and more. Like I said before that it was fun to work on this wiki. We chat about Angry Birds to find the information about these games, make efforts, and many more for this wiki. I know some aren't active on here anymore or have been inactive for a while, but if they're reading this, I appreciate you all for helping and being hard work on here.
Lastly, I want to thank everyone else on this wiki who keeps updating/editing article pages, sub-pages, and more, I really appreciate you guys for keeping up the good work, thank you. I wouldn't include the Discussion page because that one still needs to be work on at this moment, but whatever.
To all of you staff members who are remaining active and possibly new ones in the future while I'm gone, please take care of this place. Also, I gave my backlog stuff to ChickenLover, and my unfinished or planned tasks are on the Community page, so that anyone can do these on their own.
Once again, thank you guys for everything. Please take care of yourself, goodbye and farewell.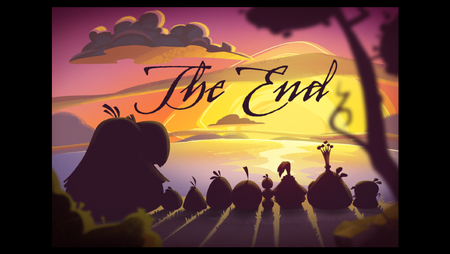 ~ AquaChoco1997