Utopia 4-10 is the tenth level of Utopia. This level is the first appearance of the Fat Pig.
Difficulty
It's considerably hard to defeat the Fat Pig.
Strategy
For Utopia 4-10, fire both birds at a high arch barely skimming the top small gravitational field. Terence should hit the first block tower high and take out the over half of the bottom pigs. Ideally, you want him to pop the top-right pig as well, but it can be done without this. Shoot the Blue bird at the same exact trajectory, splitting right when you enter the larger gravitational field. This can take out the top-right pig and send one or two blue birds around, hopefully toppling the left block tower.[1]
Trivia
This level is the first appearance of the Fat Pig, he appears as a mini-boss.
Walkthrough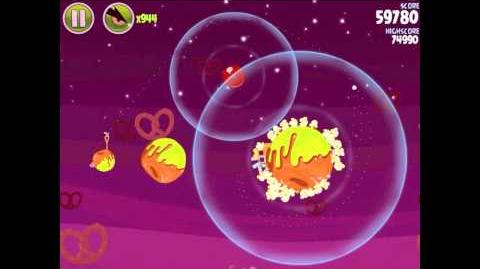 References
Angry Birds Space
Levels
Eggsteroids
Episode Key : Blue = Pig Bang; Cyan = Cold Cuts; Lightblue = Fry Me to the Moon; Pink = Utopia; Salmon = Red Planet; Lightgreen = Pig Dipper; Purple = Cosmic Crystals; RoyalBlue = Beak Impact
Community content is available under
CC-BY-SA
unless otherwise noted.