Template:Theme Infobox Utopia 4-16 is the 16th level of Utopia.
Difficulty
It's based of luck after split the bird to cleared all pigs.
Strategy
For Utopia 4-16, aim for a one-bird clear, though it is not entirely necessary. Fling the Blue bird to barely clear the highest peak, splitting late to slow down one bird and have it drop onto the bushes on the right side. The other birds should loop all the way around to the ice blocks. Even if not everything falls, use the Lazer bird to clean up.
Eggsteroid
The Eggsteroid is under the bush underneath the slingshot. Waste all Blue Birds and use the Lazer Bird to claim it.
Walkthrough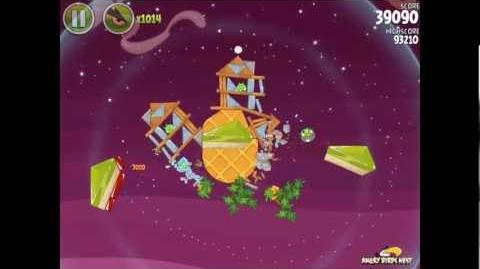 Angry Birds Space
Levels
Eggsteroids
Episode Key : Blue = Pig Bang; Cyan = Cold Cuts; Lightblue = Fry Me to the Moon; Pink = Utopia; Salmon = Red Planet; Lightgreen = Pig Dipper; Purple = Cosmic Crystals; RoyalBlue = Beak Impact
Community content is available under
CC-BY-SA
unless otherwise noted.