Template:Theme Infobox Utopia 4-27 is the 27th level in Utopia.
Difficulty
It's quite hard to get 3 stars. Target score is very high, but it's easy to get high score.
Strategy
Fling the orange bird to the far right side of the level so that it bounces off the bumper on the far right side and back up into the stone tower. The orange bird's expansion should knock the tower down to the left. If he hits with enough force (and a little luck) this can finish off the level here. If required, fling Terence into the big pile of pop corn kernels at the top so that the explode outward.
Challenge (For Daring Players)
Get more than 200,000 points.
Difficulty: Medium
Damage at most as possible. 200,000 points should not too hard.
Walkthrough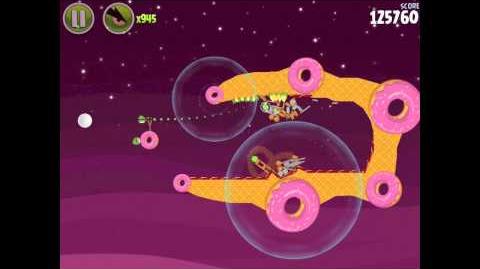 Angry Birds Space
Levels
Eggsteroids
Episode Key : Blue = Pig Bang; Cyan = Cold Cuts; Lightblue = Fry Me to the Moon; Pink = Utopia; Salmon = Red Planet; Lightgreen = Pig Dipper; Purple = Cosmic Crystals; RoyalBlue = Beak Impact
Community content is available under
CC-BY-SA
unless otherwise noted.