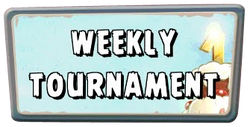 Weekly Tournament is a special episode for Angry Birds Go!. It has been added in v1.3.0 update. It is not included in the list of the main episodes.
Description
Angry Birds Go! v1.0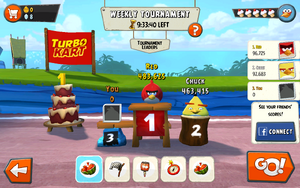 Weekly Tournament is a simple tournament consists of 5 different tracks with different modes (Race, Time Boom, Fruit Splat, Slalom, and Champion Chase); effect takes place in each track a game episode. These tracks are changed and updated every week.
Each week, the player is invited to go through all five tracks and get them as many points (you need to try to score more points than your friends from Facebook). At the end of each week, you'll be able to see who win, including your Facebook friends, this week scored the most points. The winner will receive a lucky box.
If a player is not connected Angry Birds Go! with Facebook, or doesn't have Facebook friends, the player proposed to compete against two virtual players, Red and Chuck, who are participating in each tournament is also gaining a certain number of points.
Angry Birds Go! v2.0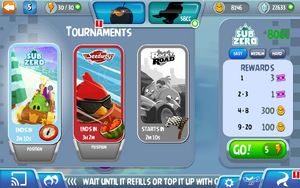 The tournament has changed in v2.0. They are no longer just weekly but appear regularly and last about five hours. In the time-limited tournament, you compete indirectly with a selection of players (on the Internet) to accumulate a number of points from each type of race. If you complete the race event with stars, you get bonuses (x1.5 for Medium, x2 for Hard), but if you fail to clear the event, your score is halved for that race. You can race multiple times as long as you have energy. At the end of the time limit, tickets are awarded for the top 20 finishers. First place overall gets 8 tickets, 2-3 gets 4 tickets, 4-8 gets 2 tickets, and 9-20 gets 1 ticket.
In a more recent update, the tournament has been removed.
Trivia
In the earlier tournaments, in the box that said event types for Champion Chase said "Time Boom".