Weekly Tournament Characters are dressed-up versions of the Birds in Weekly Tournament.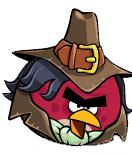 The Hunter 
The Hunter is Terence with grey hair, a mantle, and a hat. He only appears in Angry Birds Friends in the Weekly Halloween Tournament. His hat with hair and mantle are also in the Bird-O-Matic, which if combined with Terence, forms The Hunter.
Santa Bomb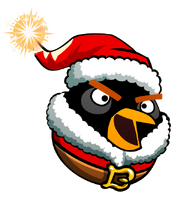 The Santa Bomb bird is based on Santa Claus. He only appears in the  Angry Birds Friends Winter Tournament, so he is a limited edition character. His ability is the same as the original version of Black Bird. But unlike the original, Santa  Bomb has 3 different launch noises, each one with a different pitch, but all are said as, "HO, HO, HO!"
The Wingman is Terence with a mask with a big W on it. He is the only Weekly Tournament Bird that is not for a limited time, so he will appear in all Tournaments.
He is also available to buy for Bird Coins in the shop.
Whenever he hits blocks, words such as POW! and WHAM! appear.
Revealed in November 2011, Hockey Bird was designed by Toni Kysenius at Rovio Entertainment to be the official mascot for the 2012 IIHF Ice Hockey World Championships.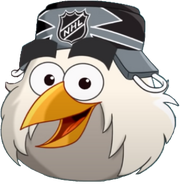 Hockey Bird is only playable in Angry Birds Friends.
v • e Birds and Allies
Game Introductions

Movie Introductions

Other

• • •
v • e
Protagonists
• • ( • • ) • () • • • • • () • • • • • • Sonam Kapoor Bird • Matt Damon Bird • • • VIXX • • • • • •
Antagonists (Accessorized Pigs)
( • • • ) • • • • • • • • • • • • • • • • • • • • • • • • • • • • • • • • • • • • • • • • • •
Materials and Objects
• • • • • • • • • • •
Power-Ups
• • • • • • • • •

TNT Presents

• • • •
Episodes

Other
Tournaments • Events • Star Cup • Bird-O-Matic • Ports (

Mobile Port

•

Windows 10 Port

) • Achievements • • • Gallery (Textures & Sprites) • Glitches • Unused Content • Version History