Template:Epic Infobox Level Winter Wonderland - 3 is the third level of Winter Wonderland in Angry Birds Epic. It is a Wave stage. When this level is finished, the player may spin for 3 Crystal Water.
Battle Hint
Wildlings (Gain bonus attack power while the Rage Chili fills up.)
These native pigs have Wilding to deal up to 50% more damage (1% bonus attack per 2% Rage Chili filled) depending on your filled rage Chili.
Hint: Keep the attack bonus of the Wilding ability low by spending your Rage ability right before Wildings use a big attack.
Pigs
Unless stated otherwise, there is only 1 of each type of enemy. Each enemy's stats are shown below per wave.
Wave 1
The player has to engage 2 Snow Pigs and 2 Ice Pigmies..
Wave 2
Wave 3
The player has to engage 2 Tiny Snow Pigs, 2 Snow Pigs, and 1 Ice Shaman..
Strategy
Warning #1: On the first wave, use the Rage Chili for Matilda when it is full (once only). Use it for Red or The Blues at the second wave if the birds' healths are over 65%, otherwise, use it for Matilda and for The Blues at the third wave if the birds' healths are over 65%, otherwise, use it for Matilda. (both wave 2 and wave 3 are unlimited)
Warning #2: Be careful! The Frost Hog can provide poison to you and Ice Shaman can steals your received healing! To cleanse those harmful effects, after Frost Hog or Ice Shaman attack, use The Blues' secondary skill immediately on all birds.
Choose Red in Samurai and Matilda in Druid and The Blues in Tricksters. In every waves, attack every turn with The Blues and Red, then, heal with Matilda if the birds' health is not full, otherwise, attack with her. When, the Rage Chili is full, do as what we said at the "Warning #1". Also, don't forget to use The Blues' secondary skill correctly as we have shown at "Warning #2" and use Red's secondary skill every time when the Frost Hog is about to attack or when there are only two birds left. Repeat this over and over until you win or lose.
In Summary
The Frost Hog and Ice Shaman are the real problems, so take them down.
Gallery
Walkthroughs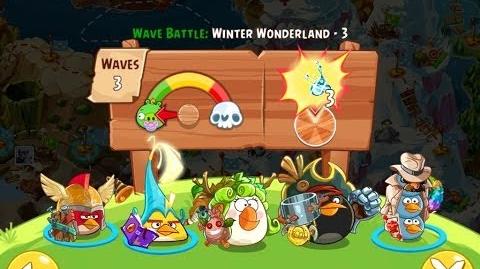 Community content is available under
CC-BY-SA
unless otherwise noted.