Wizpig is a transformation that appears in the Angry Birds series. It is an alternate state of Chef Pig, achieved through unknown means.
Appearance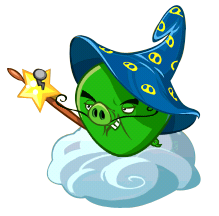 As Wizpig, Chef Pig looks the same as his normal counterpart. He is a green, upside down triangle-shaped pig with black pupils on his eyes, small, darker floating eyebrows, and a snout with two small nostrils on it and two small, long hairs on each side. For attire, Chef Pig no longer wears his chef hat, replacing it with a blue-colored wizard hat that has yellow-colored pig snouts printed on it.
Overview
Wizpig only appears in Angry Birds Epic as the main antagonist. At the start of the game, Wizpig and Prince Porky were sent by King Pig to the South Beach and steal the Angry Birds' five eggs there. With a huge army of Minion Pigs, Wizpig and Porky stole the eggs, kidnapped Chuck, and left with the birds' equipment. Later, Wizpig put one of the eggs on the Cobalt Plateaus Castle. After it was destroyed and the birds retrieved the egg, Wizpig went to the Desert Island and put another egg on the Desert Island Castle. He also fought the heroes with the aid of Porky and more pigs, though they were defeated. With the birds having retrieved another egg, Wizpig went to the Star Reef, where he kept another egg on the Star Reef Castle. He also summoned a Pig Door to ensure that the birds will never get in there. However, the Angry Birds managed to sneak into the castle, destroy it, and get the third egg.
Not having given up yet, Wizpig fled to the Snowy Peak and put the fourth egg on the Mountain Pig Castle. Later, he summoned a few pigs to prevent the Angry Birds from getting into the castle, only for the troops to get defeated. At the castle, Wizpig and Prince Porky had a duel against the heroes, though they were defeated while the birds got the fourth egg. Later, Wizpig and Porky went to Pig City, where King Pig was waiting for them. King Pig asked Wizpig if he had the five eggs, though the latter said that he had only one, saddening the king. A while afterwards, Wizpig made many attempts in vain to stop the Angry Birds. Later, he and a Cactus Knight had a duel against the birds. After being defeated, Wizpig went to King Pig's Castle, where he, King Pig, and Prince Porky were defeated again while the heroes got the fifth and final egg.
In a sudden turn of events, Wizpig regained consciousness and used his magic to steal the egg and King Pig's crown while he went to the Hog Head Mountain laughing maniacally. Prince Porky cursed at him for such actions. Having arrived at the top of the mountain, Wizpig created a Magic Shield to protect himself, powered by many different pigs that were summoned by him. After the shield was destroyed by the Angry Birds, Wizpig decided to have a final showdown against the heroes with the aid of Lefty and Righty, though he was defeated. Then, he used his magic to turn into Demonic Wizpig, an even more powerful state where no bird could defeat him. However, Prince Porky suddenly came in. With Porky's help, the Angry Birds managed to defeat Demonic Wizpig.
Powers and abilities
Wizpig is arguably an incredibly powerful being in the Angry Birds franchise. Being an experienced wizard, he can gain access to magic, which he relies on for all of his abilities. With the use of a small cloud of his, Wizpig is capable of flight, which can be incredibly fast.[1] Wizpig is quite strong, being able to deal great attack to all his enemies at once and heal himself with the damage he deals. He can also use his magic to protect himself or his allies from enemy attacks, and manipulate Undead allies to make them attack opponents.
Transformations
Demonic Wizpig
Main article: Demonic Wizpig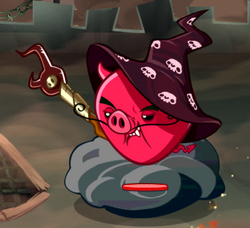 By using his own magic on himself, Wizpig can turn into Demonic Wizpig. In this state, his innate abilities surpass his normal ones. He is also so powerful that no bird can defeat him.
Easter Wizpig
Main article:

Easter Wizpig
By unknown means, Wizpig can turn into Easter Wizpig. His abilities are similar to those from his normal counterpart, though they are Easter-styled.
Trivia
Wizpig's name is a pun in the words wizard and pig.
Wizpig's name is the same as the villain in Diddy Kong Racing.
References
↑ Chimera Entertainment (March 17, 2014). Angry Birds Epic. Rovio Entertainment. iOS. Area/Level: Intro cutscene.