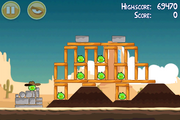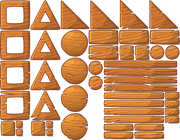 Wood
is a type of block that can be destroyed easily. It is brown in color and best broken by
Yellow Bird
, Boomerang Bird, Red Bird and
Big Brother Bird
(unless it is a square block).
Blue Birds
(even when split) do almost nothing to wood, except they may push it over. Red wood is as easy to destroy as regular wood.
Trivia
It is odd how Black Birds can break through several pieces of stone but not wood.
In Year of the Dragon, brown wood is usually replaced with red wood due to the theme's concept.